Companies that require additional space but are out of room horizontally can use a mezzanine to expand vertically into their warehouse. It's critical that the design is application-oriented, the buyer should understand how the mezzanine will be used in their operation so that it can be specified correctly.  It's more complex than simply providing the desired dimensions of the platform – building codes, storage capacities, materials and safety all play a role in proper mezzanine design. 
Common mezzanine manufacturers include:
Load capacity is one of the first factors you will have to consider when designing a new mezzanine. The biggest component to determining this is the application. A "standard" storage mezzanine will be rated to 125 PSF (capacity is measured by pounds per square foot), while a platform for modular offices may only be rated to 80 PSF. Depending on what you intend to store you may need to go to an even higher capacity. 
It's best to consult an expert to decide the right rating for your mezzanine. The risks of overloading a steel platform can be catastrophic – imagine a 25′ x 25′ structure failing. On the other hand, overrating the mezzanine beyond it's application can cause an unnecessary increase in cost. 
Standard Freestanding Mezzanine
A standard freestanding mezzanine is supported by structural columns. These mezzanines are the most common, very versatile and have the most amount of "free-space" under the platform.  Structural steel freestanding mezzanines are typically rated to have a higher load capacity (125-300 PSF) than a shelving-supported mezzanine.
Common Uses:
Shelving

Modular offices

Equipment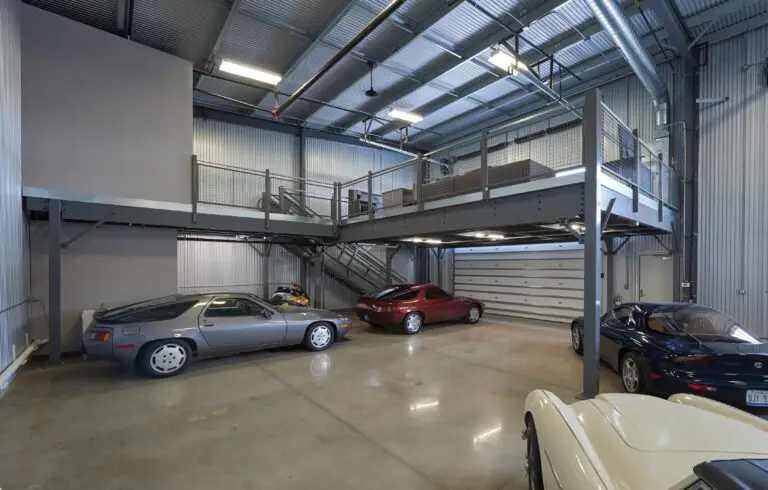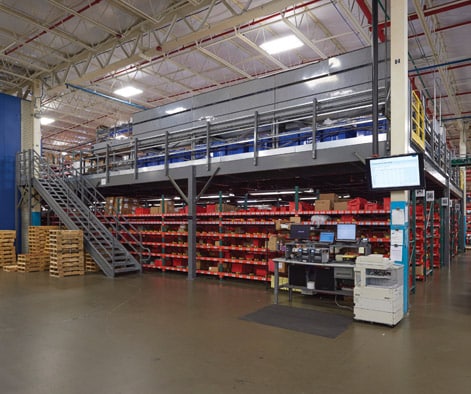 Shelving Supported Mezzanine
Unlike the mezzanine above, shelving-supported mezzanine are constructed on top of a shelving or racking system. This is a great option to put in office space over a parts department without disrupting easy-access ground storage.
Common Uses:
Spare Parts

Modular offices

Break rooms

Conference rooms
Catwalk Mezzanine
Catwalk-style mezzanines can be used to access elevated equipment, storage areas or mechanical/electrical/plumbing fixtures. The platforms are generally only intended for light pallet load or foot traffic due to space confines. These mezzanine can also be used around existing shelving systems to provide "second-level" hand pick access.
Common Uses:
Auto Parts

Equipment Access

Tools

Product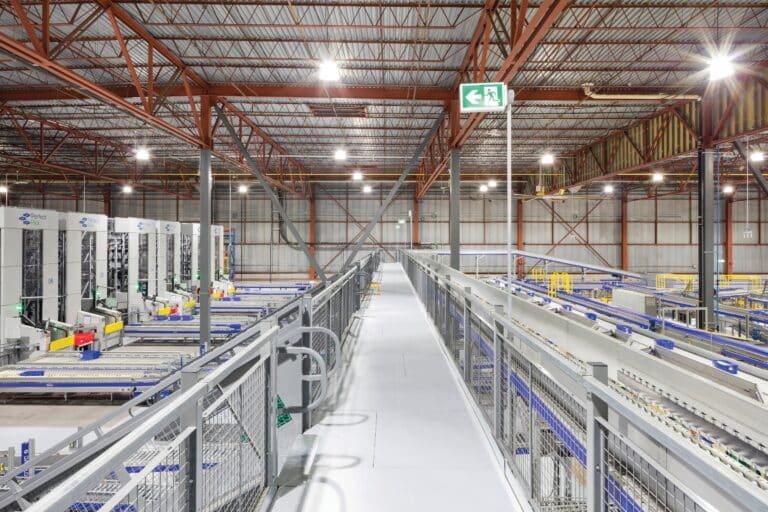 Single swing, double swing, and sliding gate safety gates are  available in 2-rail, 3-rail, and wire mesh configurations and come in a variety of different standardized widths. Each one provides a simple means of access to your mezzanine, with the sliding gate being made for constricted space limitations.
Lift out safety gates are fully removable from the mezzanine to clear any possible obstructions to loading and unloading material. They also come in 2-rail, 3-rail, and wire mesh configurations.
Safety Pivot Gates are the safest gate available on the market for a busy loading zone. Pivot gates are a modular, adjustable structure that provides a full gate to lock people in for when worker safety and material protection is of utmost importance.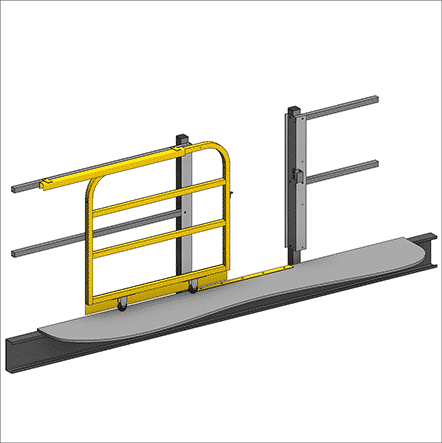 Since mezzanines are an elevated platform, safety is critical. A properly designed railing system that includes handrail and kickplate is essential to prevent people or products from falling from the platform. Handrail is sold by the linear foot, so if you have a 40' x 30' mezzanine that needs handrails on four sides it would be (40 x 2) + (30 x 2) = 140 linear feet. The side of the mezzanine that is against a wall does not need a handrail generally. Handrails also come with various total rails, 2-rail and 3-rail handrails and wire mesh handrails.
Knowing whether your applicable building code is IBC or UBC is crucial as they have different requirements for acceptable railing systems. If you're not sure, please consult an expert.
Standard staircase models include a 2-rail, 3-rail, 3-rail with inner handrails, and a 2-rail with inner handrails, wire mesh, and integrated panels. Accessories included with the staircase you select are factory welded to the channel stringers and flooring is available in open or closed treads and risers.
Any staircase above 12' high will require a mid-landing by code, landing platforms are sold separately. Landings come in straight, L-shape, and U-shape configured staircase designs. Every staircase can be configured into a tower platform with evenly spaced out staircases and mid-landings between each u-shape staircase.
Three models of double staircases are available in 2-rail, 3-rail, and 2-rail with wire mesh & integrated panels. Additionally, ramps are also offered so the movement of equipment and products up/down the mezzanine is east.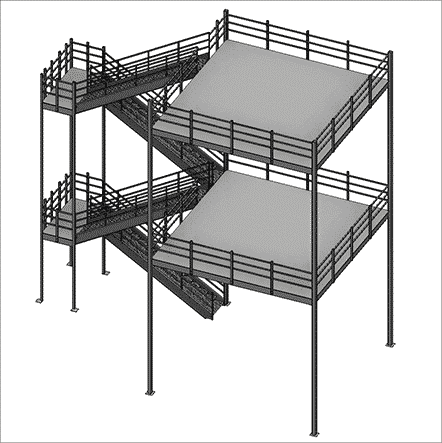 Tower Mezzanine Staircase
Plywood over B-Deck
This is a cost-friendly and common option for smaller mezzanines where only foot traffic persists. Not recommended in areas with high humidity since moisture can cause the plywood to warp.
ResinDek Resin Board
The gold standard in mezzanine flooring choices, particularly in manufacturing and warehouse settings. ResinDek over corrugated steel decking is perfect for heavy pallet load scenarios. Certain grades of this decking can withstand up to 3,000 lbs.
AdvanTech
AdvanTech is a simple choice and cost-effective option that is similar to using plywood or OSB but has superior strength and moisture resistance.
Bar Grating
The open design helps circulate air while also allowing water flow from fire sprinkler, which can alleviate some fire suppression concerns. Not ideal when drop hazards are present or when carts need to be used. Typically more expensive than other decking options.
Diamond Grip Flooring
Durable and wear-resistant flooring with anti-skid diamond grip dimples to give traction to increase safety. Either aluminum or steel diamond grip plate can be installed with or without corrugated decking as an underlayment for support. Steel diamond plate is commonly in warehouse storage and aluminum diamond plate is often used in food sanitation or pharmaceutical use. Mezzanine loads, trends of foot traffic, deck thickness, and deflection limit will determine whether you need to use corrugated decking for additional structural rigidity.
Concrete Flooring
4" of concrete poured over a galvanized corrugated steel decking creates a permanent option for mezzanine flooring. Concrete flooring is the heaviest duty flooring application but has the longest prep time and setup since concrete must be poured to set.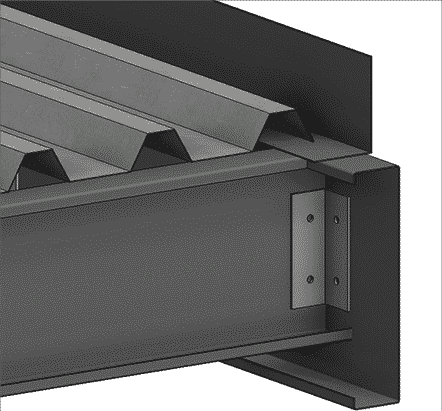 24" wide ladders with optional welded safety cages are available for increased fall protection or if the cage is required by code. 
Self-closing safety gate ladders are available in ranges of 24" to 36" width to accommodate standard ladder openings.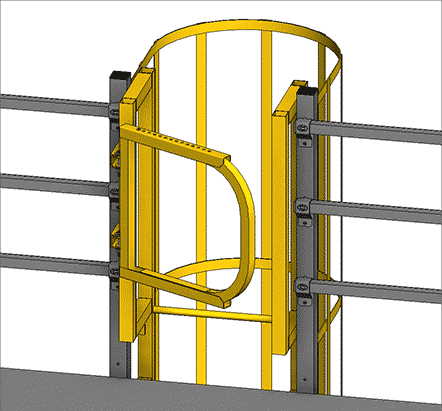 Ladder w/ Self-closing safety gate
Call Us About Our Mezzanines
Contact us for more information – we can help with any of your material handling projects. From conception to installation – we offer complete services for your new mezzanine project.  Please fill out the form to the right or reach out using the e-mail or phone below.