Electric pallet stackers are purpose built to provide many of the benefits of a full sized forklift in facilities with space limitations such as narrow aisles.

They're also an excellent option if you'd like to supplement your existing fleet with additional lifting equipment at minimal cost.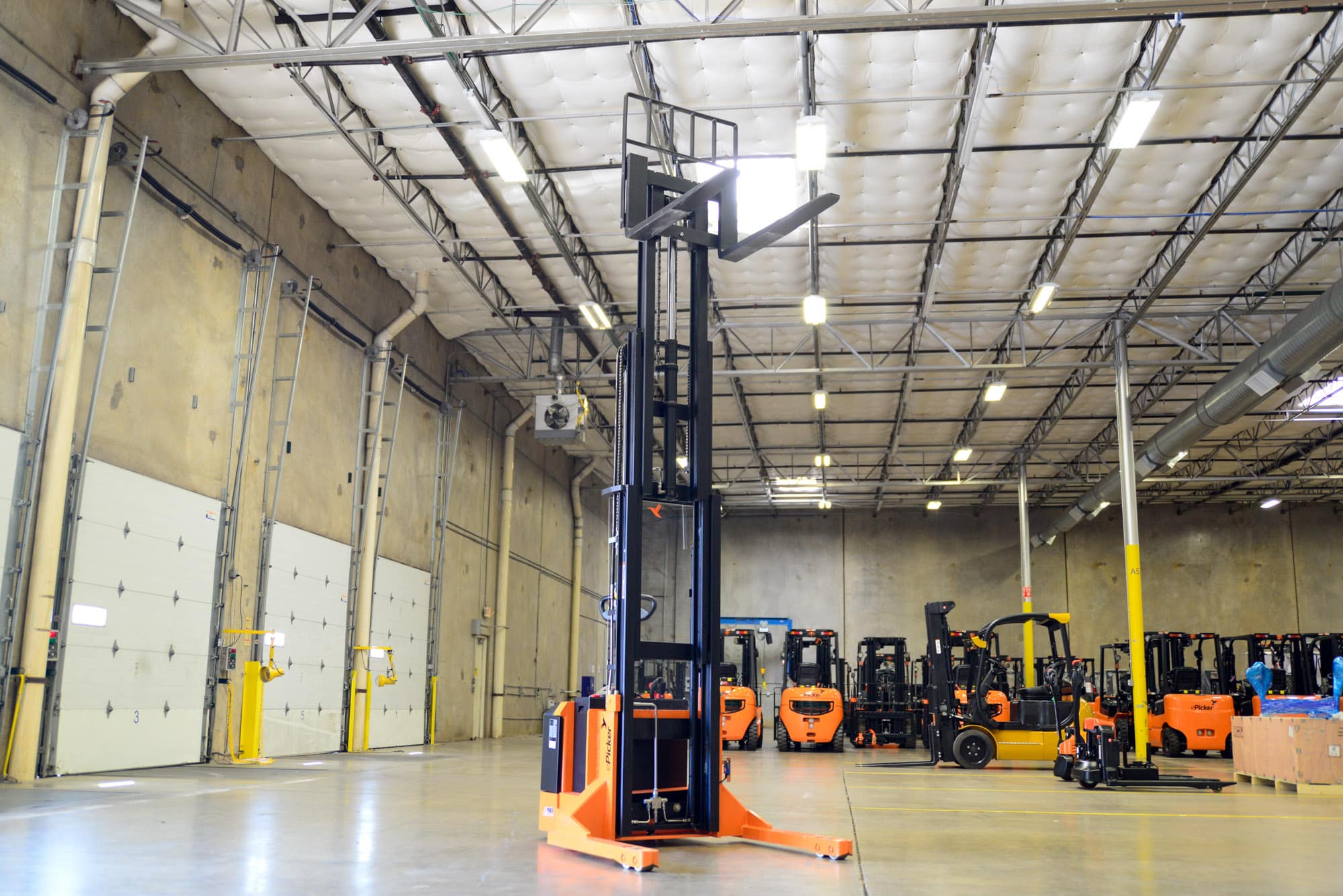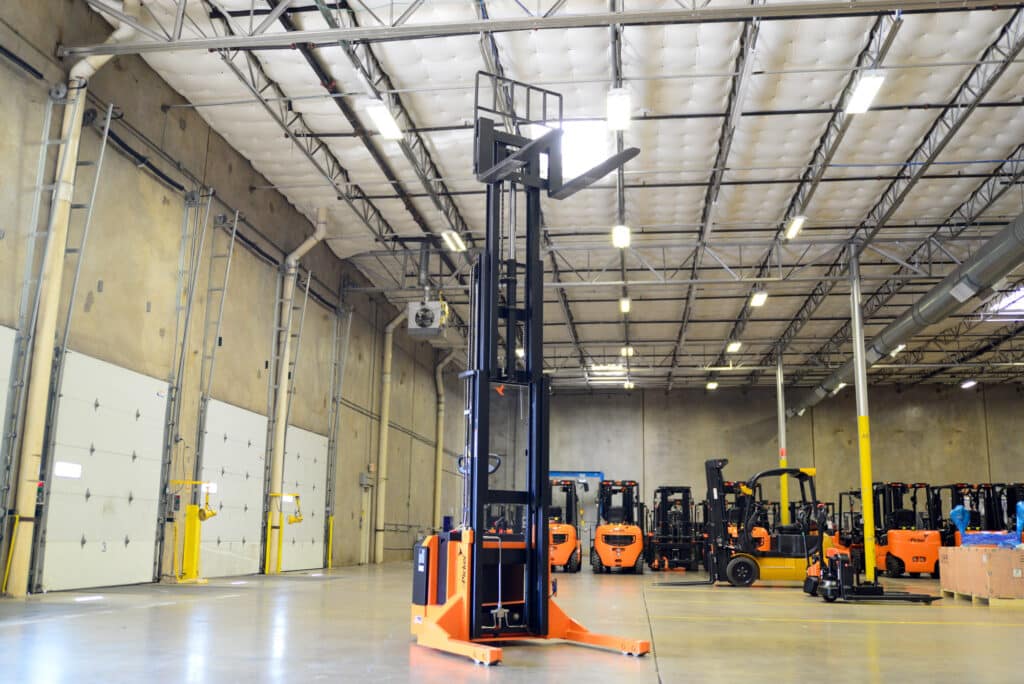 ePicker's selection of electric pallet stackers covers a wide range of possible applications. If you have any questions, or need guidance we're here to help you.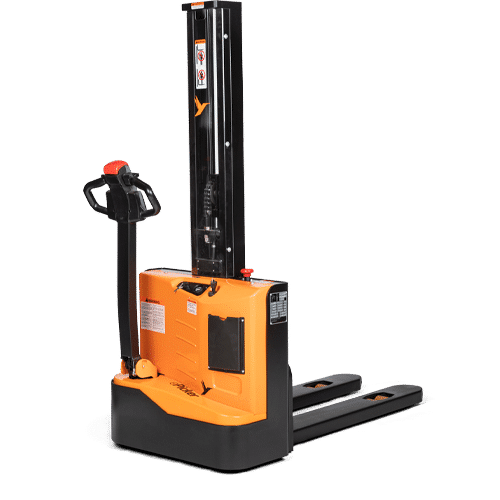 Transport and lift open bottom pallets & skids in the smallest of spaces. With its tight turning radius and minimal height, the ES10-62R works well in narrow aisle and low clearance environments.
Rated Capacity
2,200 lbs. (ES10-62R)
Lift Height
Up to 62″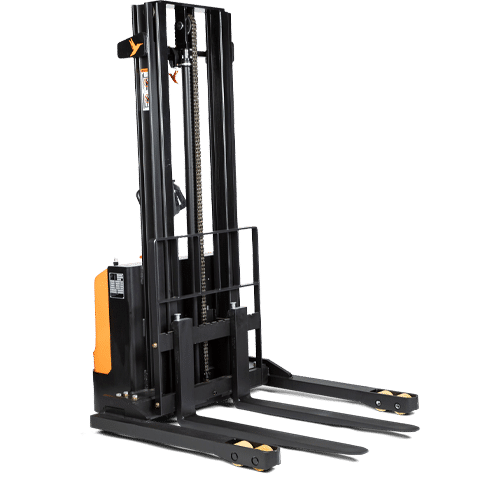 Model ES10-62 / 96 / 116 / ES15-128
At its core, a straddle stacker offers similar functionality to a forkover stacker, with one key difference: it can handle any pallet or skid type. In addition, they also provide additional weight capacity and reach.
Rated Capacity
Up to 3,000 lbs. (ES15-128)
Lift Height
Up to 177″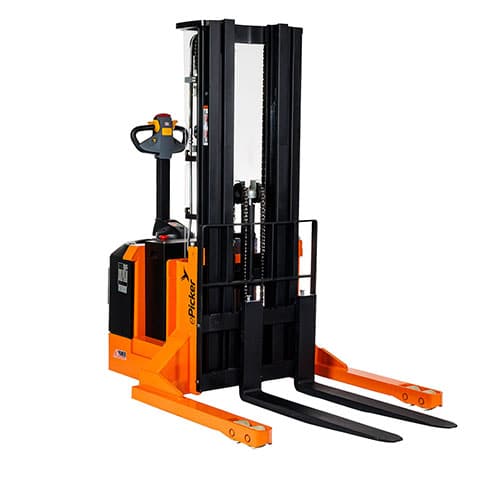 PERFORMANCE WALKIE STRADDLE STACKER
The performance walkie straddle stacker
is ePicker's top of the line option that delivers most of the benefits of a full
sized forklift for a fraction of the cost.

Rated Capacity
Up to 4,000 lbs. (ESP20-177)
Lift Height
Up to 177″

Get a Free Quote or Request More Information
Interested in a specific model, or have a few questions? Please fill
out the form and a member of our team will contact you.
We're Committed to Providing Industry Leading Customer Service
Brandon Ridinger
January 18, 2023
This is our 2nd time using Mid Florida Material Handling. Both experience were great. Material arrived on time and quantities matched what we ordered. We purchased previously used pallet racking on our first order and new on the 2nd. Both were top quality where we will use Mid Florida for future warehouse expansions. Top notch.
Michael Kinevan
January 18, 2023
It was a great experience from start to finish. We were unsure what we needed to start but we're guided through the process and ended up with heavy duty shelving that is perfect for our chimney inventory. Highly recommend!
Christopher Cable
May 6, 2022
Great customer service, friendly staff. Always go the extra mile to help satisfy the customers needs.
Robert Grooms
March 30, 2022
I am a small business in Port Orange, FL that from time to time needs warehouse expansion that Pallet Racks have proven to be the answer. I have purchased uprights and beams from Mid Florida on two occasions and have found that their service and products have been exactly as they described and their pricing is better than I have found elsewhere. I will think of Mid Florida first in the future for my pallet rack needs or any warehouse materials.
Mark handled a situation very professionally. Excellent customer service
Mark Geisler
February 10, 2022
I am a forklift tech here. Enjoy working here.
Mark Marvin
January 20, 2022
Got us what we needed when we needed it. Great communication, cant ask for anything more! Thanks so much!
john lance
January 12, 2022
I worked with Paul and Andee the owners for 12 years as a road tech you could not ask for 2 better people to work for and to know I wish them all the luck , John Lance
Patrick Flanagan
December 10, 2021
Fair pricing, prompt and courteous delivery. I'll be back for more nearly new racks
Discover more electric handling equipment
Contact us to learn more about our selection of electric pallet stackers.
Contact us for more information – we can help with any of your material handling projects. Please fill out the form to the right or reach out using the e-mail or phone below.