Drive-In / Drive-Thru RACKING SYSTEMS
maximize storage capacity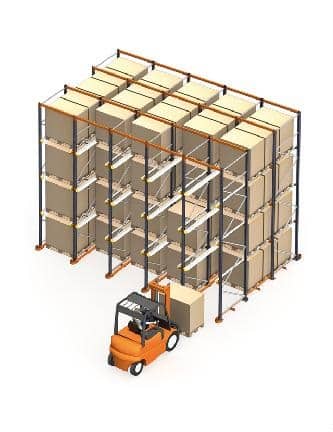 Drive-in racking systems are a unique style of racking that is focused on maximum storage density and low cost. By design, pallets are stored one after another by a forklift operator deep in the drive-in aisles. The rear of the drive-in racking system is normally blocked off/inaccessible to forklift traffic. (This is what differentiates it from a drive-thru system.)
Due to the drive-in nature of the rack, loading and unloading has to be done in a "LIFO" (Last-In, First-Out) order. This is ideal for fast-moving SKUs or products with no expiration date.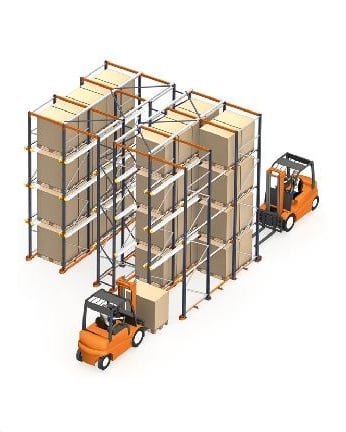 Drive-thru racking systems are very similar to drive-in systems with one key difference – the rear of the system is open to forklift traffic. This decreases the overall storage density of the system by one to two pallet positions but allows forklift operators to access both sides of the system. 
As a result warehouses with drive-thru system can operate in a "FIFO" (First-In, First-Out) order – ideal for products with expiration dates and providing additional flexibility for reaching your items.
What's Right For Your Application?
Both drive-in and drive-thru racking system provide superior storage density at a low cost. This can lead to a reduction in warehouse footprint and lower operating costs for your facility. Drive-In/Drive-Thru systems also simplify your storage locations by reducing the number of unique pallet positions and creating aisles of all the same product. 
Both types of racks can be customized by the manufacturer to meet your specific requirements in capacities, pallet size and more. The key difference between drive-thru and drive-in racking is the ability to access product in a "LIFO" or a "FIFO" order.
Mid Florida Material Handling has 40+ years of experience in the racking industry and has regularly handled large-scale warehouse pallet racking installations. We have designed and installed countless drive-in and drive-thru systems for our customers. Contact us so we can find the right storage solution for your needs! Click here to view our full catalog.
Call Today About Our Drive-in/Drive-Thru Racking Systems
Contact us for more information – we can help with any of your material handling projects. We offer a wide variety of shelving and racking solutions for you warehouse. Please fill out the form to the right or reach out using the e-mail or phone below.